Andy I. Choi, MD
(December 17, 1975 - August 15, 2010)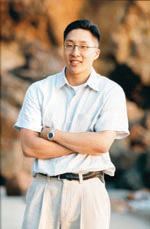 Dr. Andy I. Choi was an Assistant Professor of Medicine and former nephrology fellow in the Division of Nephrology at UCSF. He was an extremely talented, dedicated and passionate physician scientist whose primary clinical and research goal was to improve the prevention and treatment of kidney disease among high risk vulnerable populations. He was also a dear friend, compassionate physician and valued collaborator for colleagues at UCSF and at institutions across the country.
Early in his training, Andy recognized that African Americans with HIV infection were at high risk for developing chronic kidney disease and end-stage renal disease in the United States, and that kidney disease was an emerging threat to the health of persons living with HIV disease in the era of effective antiretroviral therapy. When Andy began his research career, this was an almost unpopulated area of epidemiological research, and there were no established experts to guide him. Undaunted, he developed his own kidney research database leveraging the VA's national Immunology Case Registry. Using these and other data, he made numerous important contributions to our understanding of how kidney disease develops and progresses in HIV infected persons. In just a few short years, he became a national expert in HIV-related kidney disease, and had been recognized with 3 NIH grants and appointment to a national guideline panel on the diagnosis and treatment of kidney disease in the HIV population.
Andy had all the requisite skills and personal qualities to have a long, productive career in research. He was extremely creative and continuously pursued novel approaches to better characterize disease epidemiology and to guide diagnosis and treatment strategies in this vulnerable population. Andy also loved statistical methodology and spent long hours mastering complicated modeling techniques that were far beyond the grasp of most clinical researchers. Andy was a rising star and there is no doubt that he would have gone on to become a preeminent thought leader within the field.
Andy was kind, humble, thoughtful, and extremely hard-working. Over time, it became evident to many of those who knew and worked with Andy that he had a very special talent for collaboration. After his death, dozens of colleagues and collaborators from around the country came forward with stories about how unselfish Andy had been in helping them with their research. Andy seemed never to turn anyone away who sought his help; he was generous with his time and expertise no matter how many projects he was already working on. Many trainees saw him as a supportive, approachable and successful role model.
Despite having appeared in normal health, Andy died suddenly on August 15, 2010 after collapsing at the San Francisco airport upon returning from a family vacation. Andy leaves behind his wife, Nahyion, two young daughters (Allison and Charlotte), his sister (Sandy) and his parents (Mr. and Mrs. Kon Young Choi).
This is an enormous loss for his family and for those of us at UCSF who worked closely with Andy and were able to enjoy his commitment and passion for his work, his dedication to his family, and his easy-going manner and sense of humor. Andy's death is also a tremendous loss to colleagues across the country, to the scientific community, and to patients with kidney disease, HIV infection, or both conditions who may have benefited from Andy's research. Even though Andy is no longer with us, his work and commitment will continue to inspire all of us who worked with him. Our colleagues at the UCSF Center for AIDS Research have re-named their mentoring program the Andy I. Choi Mentoring Program of the UCSF-GIVI Center for AIDS Research.
Andy loved attending scientific meetings. He valued the opportunity to learn about and be inspired by the work of others, to develop new collaborations, and to reunite with friends and colleagues from across the country. To further honor Andy's memory, the UCSF Division of Nephrology and the Department of Medicine are pleased to announce the establishment of an endowed 'Andy I. Choi, MD Memorial Scholarship.' This will be an annual scholarship which will support fellow travel to a scientific meeting devoted to kidney disease or HIV, two of Andy's research passions. Criteria for selection include: academic promise as well as embodiment of kindness and generosity which we all so appreciated in Andy.
Please click HERE for a complete bibliography of Andy's publications (updated November 2014).
Andy I. Choi, MD Memorial Scholarship Recipients
| Name | Year |
| --- | --- |
| Debbie Chen | 2021-22 |
| Jonathan Amatruda | 2020-21 |
| Gabriel Loeb | 2019-20 |
| Adrian Whelan | 2018-19 |
| Benjamin Lee | 2017-18 |
| Anoop Sheshadri | 2016-17 |
| Leticia Rolon | 2015-16 |
| Vasantha Jotwani | 2014-15 |
| Anna Malkina | 2013-14 |
| Elaine Ku | 2012-13 |
| Meyeon Park | 2011-12 |
| Delphine Tuot | 2010-11 |