Staff Spotlight: Jep Poon, Manager, ZSFG Division of Nephrology
Jill of All Trades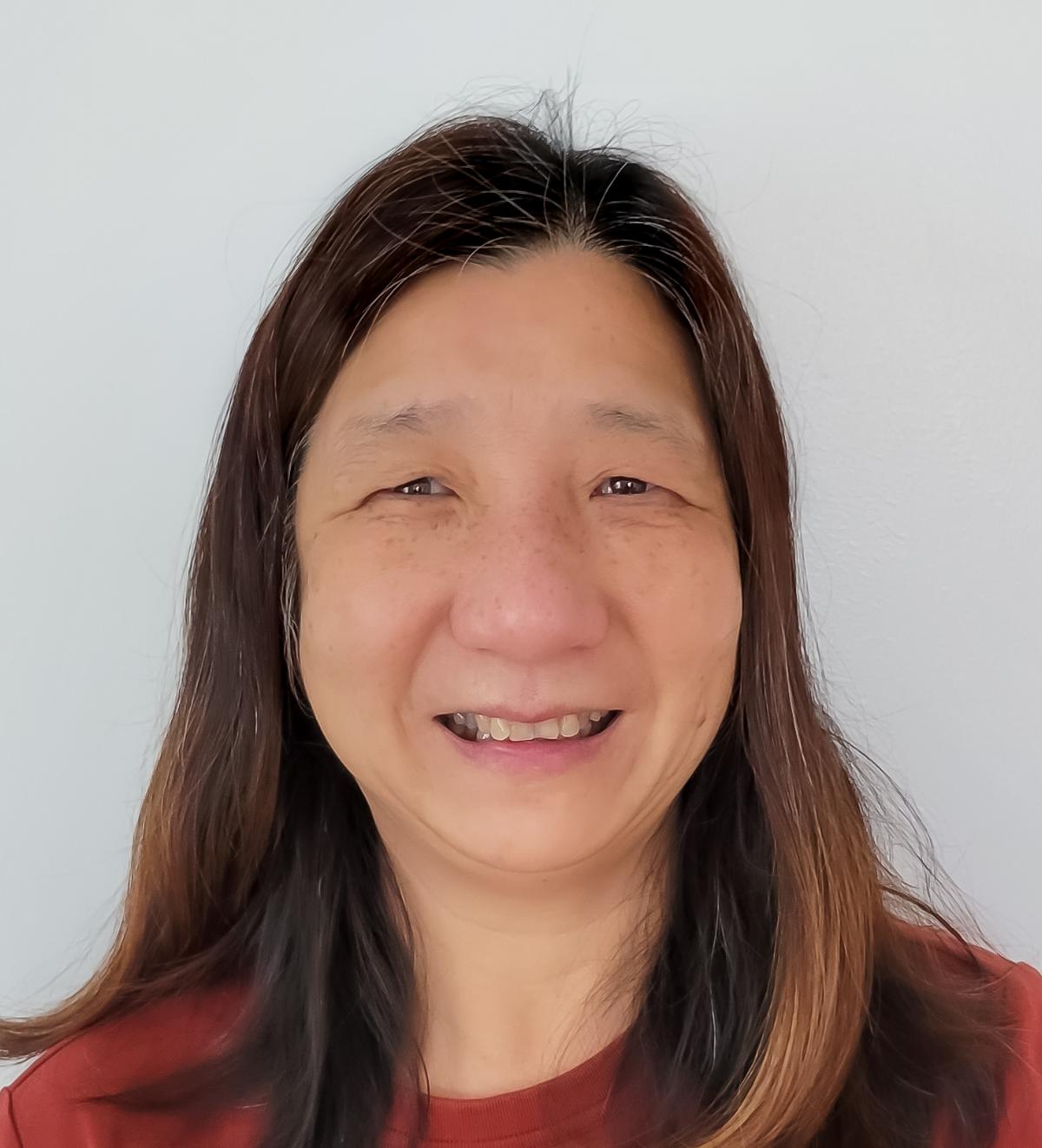 Jep Poon is a Renaissance woman. Over the last three decades she's developed expertise in almost every aspect of nephrology, from upgrading computer memory and submitting insurance claims to working as a dialysis technician and bilingual clinician. She uses this wealth of experience to support patients, faculty, staff and trainees in her current position as manager of the Zuckerberg San Francisco General Hospital (ZSFG) Division of Nephrology and ZSFG Renal Center.
"I'm happy that I can do both the administrative and clinical side of this work," said Poon. "I hope that everyone knows they are welcome here at the General, and that they can come to me any time for help."
Born and raised in China, Poon earned a degree in accounting from Guangzhou College before immigrating to the U.S. with her family in 1984. She soon landed a job at UCSF, working as a senior clerk in the Medical Records department. A colleague encouraged her to develop her skills by training at City College of San Francisco to become a medical unit coordinator. In addition to working full-time, she attended classes five nights a week for an entire year, then interned at what was then San Francisco General Hospital's labor and delivery unit. She joined the ZSFG Division of Nephrology in 1989 as a unit coordinator; her work included helping the ZSFG Renal Center, which provides dialysis to patients with end-stage kidney disease, regardless of insurance, documentation or housing status.
Always Learning New Skills
Throughout her career, Poon has never been afraid to ask questions and learn new skills. In the early 1990s, ZSFG did not yet have an information technology group, and her division relied on an outside contractor who charged $100 per hour. "I thought, 'That's a lot of money! Why pay them? Let me learn this,'" she recalled. By reading and attending a weeklong course, she figured out how to change computer motherboards, set security passwords, and install wiring. "I had so much energy, and I always like to learn new things," she said.
Because the Renal Center was so short-staffed, the nurse manager, Lucy Lobbly, RN, encouraged Poon to become a dialysis technician so she could help out. "I was so lucky that she spent all this time training me, and that she stood by me as I was working on the floor to get my hours to become certified," said Poon. "She encouraged me to believe in myself."
In addition to becoming a certified dialysis technician, which allowed her to take care of patients directly as well as to train new technicians, Poon used her Mandarin and Cantonese fluency to become a certified bilingual clinician. Over time, she has gotten to know patients well. Poon recalls one Chinese patient whose relatives did not understand much about kidney disease. "He was eating alone and completely isolated from the family," she said. "I was able to help the family understand that the patient was not contagious and should be treated like a normal person."
Poon also encourages patients who may feel depressed. "Some younger patients talk about dying, and this being the end of their lives," she said. "I tell them, 'I've had patients on dialysis for 30 years or more, and they're still alive. You might also get a transplant.' Dialysis is like a part-time job where they come here three times a week, four hours at a time, and then they can live their lives and continue whatever they enjoy doing…. Also, some patients have a lot of concerns about being deported by showing up at our doorstep, and I always tell them that they are in a safe environment, so just come for dialysis and don't worry."
Helping Wherever She's Needed
After a few years working as a dialysis technician, Poon returned to City College for a two-year course in business administration and became the Renal Center's billing manager. "Getting revenue in can be very challenging, especially for Medi-Cal payments," she said. "It can require many steps to follow up with insurance companies, but I bug them and I don't give up! You have to give good solid evidence of the encounter. When I get a retroactive prior authorization or a payment, I feel happy."
In 2003, Poon was promoted as her division's new manager. In addition to managing the division's budget and human resources issues, overseeing HIPAA compliance in clinical trials, and applying for visas for international researchers, she also has helped guide the creation of new inpatient and outpatient dialysis centers at ZSFG. In addition, she supports her colleagues in many other ways. Because the nurse manager position in the Renal Center has been vacant for several years, Poon stepped up to help fill the gap. She schedules 30 clinical staff, no small feat when the Renal Center is open six days a week from 4:30 a.m. to 8 p.m.
When COVID-19 emerged, she helped develop a surge plan and created procedures to screen patients for COVID symptoms or exposures prior to entering the Renal Center, as well as patient safety protocols during dialysis such as social distancing, refraining from eating or talking with other patients, and wearing masks during the entire treatment. "When the California Department of Public Health came for inspections during the pandemic, we had no issues," said Poon. "That was a challenge, but also a very rewarding achievement."
She also works closely with nephrology fellows on the inpatient service who need to find an outpatient dialysis chair for their patients prior to discharging them. Because the ZSFG Renal Center does not have enough slots to care for them all, Poon has developed close relationships with many community dialysis centers, helping to place more than 2,000 patients over the years. "I'm really honest with the centers, and I also try to give patients opportunities to receive dialysis where they want to go," she said.
Like any good matchmaker, sometimes Poon employs her negotiation skills to finesse delicate situations. "If a center's social worker thinks the patient might not be suitable for their facility, I'll say, 'Why don't you try the patient out for a couple months and if it's not working out and I have a chair open up, we'll take the patient back?'" she said. "Or I might tell the patient, 'This is a try-out, so you need to be on your best behavior.'" Poon places an average of 10 new dialysis patients each month, and checks her email even on weekends because sometimes finding an outpatient dialysis placement is the only obstacle preventing a patient from being discharged.
One of her favorite duties is coordinating provider and staff donations each holiday season to buy a Costco rotisserie chicken for each dialysis patient, a tradition that started a decade ago. Poon personally orders and picks up the chickens to distribute in the Renal Center. "Our patients look forward to that every year," she said.
Creating a Welcoming Environment
"Jep Poon is one of the most dedicated and mission-driven people I have ever worked with," said Melody Davenport-McLaughlin, clinical operations manager for the ZSFG Department of Medicine. She is one of Poon's mentors, and her predecessor as division manager. "There is no task that Jep is unwilling to tackle. She is a strong advocate for the patients who receive care at the ZSFG Renal Center, many of whom are people of color and live with great financial hardship. She is humble but firm in her insistence that anything worth doing is worth doing correctly. She is exacting but fair, and well-respected by patients, staff and faculty alike."
Among her many honors, Poon's extraordinary contributions were recognized by a Chancellor Award for Exceptional University Service in 2011, and a Department of Medicine Staff Excellence in Leadership Award in 2019. Besides her passion for her work, she is a former competitive badminton player and continues to play several times a week, and also enjoys hiking and biking. She has two grown sons who both work at UCSF; one is a nurse, and the other is a patient care assistant who will soon become a nurse as well.
"I'm proud that as a woman, a minority, and a Chinese immigrant, I've been able to grow in my division, to learn many different things, and have opportunities to be promoted," said Poon. "I hope my efforts have touched the lives of every patient who comes through our doors. I want to give them hope through their times of greatest need, and make them feel safe and welcome."
– Elizabeth Chur