Patient Stories: Donna Aflague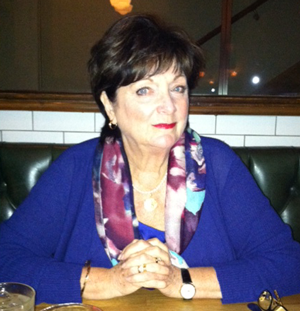 Several years ago, I went through a series of medical mishaps at my local hospital, including surgical errors and a long-term abdominal infection. I had blood in my urine and constant nausea that was so bad it resulted in life-threatening malnutrition. I was told that I had a bladder infection. My doctor recommended that I go to UC San Francisco Medical Center.
At UCSF, I had blood work done, and Dr. Chi-yuan Hsu came to see me. "You don't have a bladder infection," he said. He told me that I instead had some form of aggressive glomerulonephritis (acute inflammation of the kidney, typically caused by an immune response). And he said "we need to do a kidney biopsy immediately."
I had the biopsy the next morning, and Dr. Hsu personally walked the sample to the lab. That told me right away that he was really committed to helping me.
Then Dr. Hsu gave me the results. He explained that I had a disease called IgA nephropathy, which happens when IgA, a protein that normally helps infection, settles in the kidneys instead and damages them.
He explained that I had a very fast-moving case. A month before, my kidney function had been 100 percent. Now it was down to 14 percent. I was at risk for total kidney failure.
He started me on treatment right away — prednisone and Cytoxan, a cancer chemotherapy drug that is also effective against IgA nephropathy. Just in case, I met with the UCSF kidney transplant team. But Dr. Hsu was determined to help save my kidneys. My husband and I took the two-hour drive to UCSF at least once a week, and sometimes more often, to see Dr. Hsu. He monitored me very, very closely.
He treated me for about nine months, scaling back on medication as I slowly improved. Eventually he got me to the point where I was stabilized and in pretty good shape. Today I have 45 percent kidney function. I still have IgA nephropathy – once you have it, you have it, and it doesn't go away – but it's under control.
I still see Dr. Hsu every six months for tests and a thorough checkup. And I consult him about any other health issue I may have. He talks with my other doctors, and advises me on what medications I should or shouldn't take in order to protect the health of my kidneys. Any questions I have, I call him, and he gets back to me immediately. He's there all the time, looking out for my kidneys.
At my house, every Thanksgiving, we go around the table and say what we're thankful for. And one year, after the worst of this was over, I told Dr. Hsu that he was at the head of my list. If he hadn't acted so quickly and been so on top of things, I might have ended up on dialysis, or looking for a kidney transplant, instead of being healthy and thriving.
Today, I'm retired. I'm able to spend time caring for my husband. And from time to time I rescue and foster homeless dogs and cats until new permanent homes can be found for them. And that's all thanks to Dr. Hsu and his colleagues at UCSF. He took me through a really rough time. He was always encouraging, and helped me feel like I would be healthy again – and I am.