Staff Spotlight: Debbie Gilman, Operations Manager, UCSF Health Division of Nephrology
More than Just a Job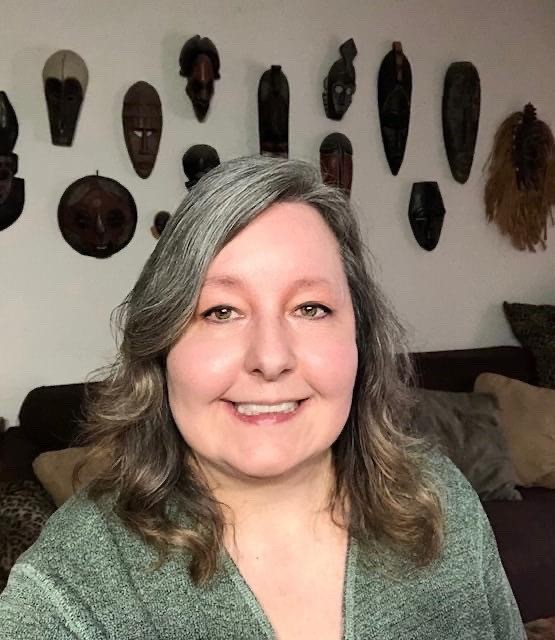 "My whole career, I've really fostered relationships," said Debbie Gilman, operations manager for the UCSF Health Division of Nephrology. "One of my skill sets is being able to work well with people and make friends." Her spirit of appreciation, empathy and respect animates everything she does, whether she is overseeing a big office move or making sure her colleagues get birthday cards signed by the whole team.
Born and raised in central Massachusetts, Gilman studied photography at Framingham State College before moving to San Francisco at age 21, sight unseen. She held administrative positions at a portrait studio, architecture and engineering firms, and Williams-Sonoma Corporate Facilities before joining the UCSF Health Division of Nephrology as an administrative assistant in 2009. "I wanted to do something that would make a difference in people's lives," she said.
At that time, the division's administrative team only had four support staff, so she gained broad exposure to all aspects of the work, including finance, purchasing, organizing didactic conferences, event planning, maintaining the website, moving a lab, and handling any miscellaneous task that came her way. "It was a bit overwhelming, coming in from the private sector and learning all of UCSF's processes, but I learned so much," said Gilman.
In 2018, she was promoted to her current position as the division's operations manager, serving as a go-to person for a division which has grown to include 18 general nephrology faculty, eight Kidney Transplant Unit faculty, 19 fellows and 28 staff. "I have a long history with the division," said Gilman. "Even if I'm not in charge of something, I try to help people navigate, and that makes me feel good."
Directing a Big Move
Among her many duties, she facilitates hires and onboards staff members, oversees IT needs, curates content for the bimonthly newsletter, and leads space planning. One of her biggest projects was leading the division's move in March 2021. It was a bit like choreographing a ballet that takes place on a rollercoaster, with countless details unfolding in a very dynamic environment. More than 25 faculty and staff who had been scattered across campus co-located to Millberry Union East and West. The division had been slated to relocate for years, but it finally got the official green light with just a few months to plan and execute the move. "I was biting my nails the whole way through because I had never done a move that big before, but it was extremely successful, which made me so happy," said Gilman. "I was lucky to have great Facilities partners."
Many factors made the project challenging, including a tight timeframe, staffing shortages, a renovation project that would take the elevators out of service just a few days after the move, and of course, the pandemic. Gilman navigated it all with grace and skill, tapping into her organizational skills, institutional knowledge, and vast network of UCSF connections. "I really liked working on this project," Gilman said with a laugh. "I wasn't bungee jumping, but there was something about the adrenaline rush that was really invigorating."
She measured walls and desks, helped faculty pack and label their boxes, sourced furniture, and worked with Facilities to repaint and recarpet the space and update signage. She also partnered with IT and Facilities to set up phone and data ports and move the copiers, and orchestrated the entire move on a holiday. "Almost everyone was up and running on day two," she said.
Gilman also used her empathy and negotiation skills to navigate challenging situations and shifting timelines. "I understand that most projects of any magnitude have issues," she said. Prior to joining UCSF, she worked for an engineering firm that subcontracted to rebuild the Bay Bridge. "On that project, the state would literally call us and tell the engineers to stop working in mid-pencil scratch because the budget had been reached and had to be renegotiated. Rather than be angry about things that don't go your way, I try to look at the other person's side. In my 20s, I wanted what I wanted and was frustrated much of the time. Buddhism has helped me look at a bigger picture. I try to be a peace negotiator, because that's what helps maintain relationships."
Eric Larsen, project manager for UCSF Real Estate, said, "Even with a dedicated move manager and furniture planner on board … the relocation's success would not have been possible without the mammoth effort and time commitment Debbie made….She basically took ownership of every aspect of the move and furniture scopes to ensure that the individual needs of all faculty and staff were met."
She also credits her boss, Division Manager Ryan Rieger, with helping her be successful. "He listened to the challenges and sets realistic expectations," said Gilman. "He encourages career growth and has my best interest at heart. He saw that my talent was in operations and customer service, and created a job in that direction. It's the happiest I have been at UCSF."
To preserve her good working relationships with the mailroom, she ordered months of supplies prior to the move so the division would be well stocked. "I didn't want to ask the mailroom staff to lug heavy packages up four flights of stairs, and FedEx and UPS are on tight timeframes and don't always have time to call us to pick up deliveries [from the ground floor]," she said. When the elevator project stretched beyond the expected three months to nearly a year, Gilman developed workarounds, arranging for packages to be delivered to UCSF's Oyster Point distribution facility in South San Francisco.
She believes in full, transparent communication, updating the team as more information becomes available. "Having less information tends to fuel speculation, but knowledge allows you to build expectations and let people know how you will deal with shifting circumstances," Gilman said.
She also relies on her superpower of knowing exactly whom to ask for help, and expressing gratitude for their assistance. "At UCSF, if you don't know the right people, you can spin for hours trying to solve one simple problem," said Gilman. "Over the years, I've cultivated a lot of friends in other divisions and areas, and we help each other. I also try to appreciate people, whether it's leaving a Post-It note on their computer with a happy face, emailing their manager to say what a great job they did, filling out a feedback survey, or sending them a cookie as a gesture of thanks. A lot of times people tell me, 'You made my day,' which in turn makes my day."
'Like a Family'
For Gilman, the Division of Nephrology is more than just a job. "I have a lot of loyalty to my division and the people I work with," she said. "They are like a family." She finds meaning in coordinating cards, collecting funds, and organizing gatherings that acknowledge life events such as the birth of a child or the loss of a family member. "It goes beyond the scope of work," she said. "I care about my division members as more than just coworkers, and that makes me enjoy my job so much more."
"Debbie Gilman works tirelessly behind the scenes at the Division of Nephrology to help the faculty succeed, and she does it all with unfailing good humor and grace," said Sindhu Chandran, MBBS, associate professor in the Division of Nephrology and director of the UCSF Inpatient Kidney Transplant Unit. "Seeing Debbie always brightens my day and makes me feel positive about the future of the division."
"Debbie is a treasure," said Meyeon Park, MD, MAS, associate professor in the Division of Nephrology and director of the UCSF Polycystic Kidney Disease Center of Excellence. "Her kindness and concern… have been a huge support for me and countless others at UCSF, and we as a division are truly dependent on her extraordinary devotion and hard work. She also advocates for fair treatment of staff and ancillary services, such as facilities and administrative team members, our AV technician and shuttle drivers."
Outside of work, Gilman can often be found photographing colorful murals in the Mission District, dancing at reggae concerts, taking walks around Stow Lake before dawn, and lavishing affection on her two cats, Irie and Kumaré.
"You don't have to be the CEO to make a difference," said Gilman. "Helping and making people happy is my reward. When someone send me an email that says 'I appreciate that,' it means everything to me."
– Elizabeth Chur