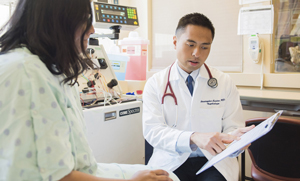 All fellows rotate through the main clinical training sites: UCSF Medical Center, Zuckerberg San Francisco General Hospital (ZSFG), and the San Francisco Veterans Administration Medical Center (SFVAMC).
Our clinical rotations include nephrology consultative services, chronic dialysis (hemodialysis and peritoneal dialysis), and kidney transplantation. Consultative services encompass dialysis care, continuous renal replacement therapy (CRRT) for ICU patients, acute and chronic kidney disease, hypertension management, glomerulonephritis, and electrolyte/acid-base disorders.
Nephrology faculty and fellows at the three sites supervise maintenance in center and home hemodialysis and peritoneal dialysis for over 300 end-stage renal disease patients in the San Francisco Bay Area. The Kidney Transplant Unit (KTU) at UCSF performs around 350 kidney transplants per year, including simultaneous pancreas-kidney transplants, expanded criteria donors, and high-risk patients.
Fellows will receive training in procedures including:
Hemodialysis
Peritoneal Dialysis
Continuous Renal Replacement Therapy
Urine Sediment Microscopy 
Temporary Hemodialysis Catheter Insertion (with real time ultrasound guidance)
Kidney Biopsies (native and transplant)
Fellows will also receive training in renal pathology through the fellows lecture series, renal case conference, kidney transplant biopsy rounds, and renal pathology conference.
Continuity clinic in nephrology, hypertension, and electrolyte disorders is offered at all three main teaching sites. Fellows attend weekly continuity clinic throughout the first two years of fellowship training.
Other regularly scheduled outpatient clinic experiences include pre-ESRD (end-stage renal disease) clinic, peritoneal dialysis clinic, outpatient hemodialysis rounds, and post-kidney transplant clinic.
In July 2018, we implemented a fellowship night float system similar to those used in medicine residency programs. The night float fellow takes home call and provides coverage from 7 PM to 7 AM, Monday to Friday.  Fellows on clinical rotation during the daytime do NOT take night call Monday to Friday for roughly 90% of the year.  Fellows do approximately 4 weeks of night float per year during the first two years of fellowship training.
Clinician Educator Track (2 years)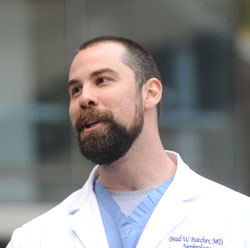 The educator track focuses on clinical nephrology, medical education and scholarly activity. Clinician educator fellows are invited to teach first year medical students at UCSF in small group settings during the renal pathophysiology block. Fellows present an annual Nephrology Grand Rounds presentation which may become the basis for a review paper that may be submitted for publication.
The Haile T. Debas Academy of Medical Educators at UCSF is dedicated to teaching excellence, curriculum innovation, and scholarship in medical education. Fellows may attend Academy workshops on medical education, including effective lectures, small group leadership, evaluation and feedback, and mentorship.
The fellow may also seek additional training in clinical nephrology including abdominal imaging, renal pathology, and interventional nephrology. Clinician educator fellows are also encouraged to pursue additional training in kidney transplantation, including the kidney transplant fellowship program at UCSF directed by Dr. Jun Shoji and accredited by the American Society of Transplantation.
Clinician educator fellows have several months of protected academic time for independent projects of their choice: quality assessment/quality improvement, patient safety, clinical research, and translational research.
Relevant Links