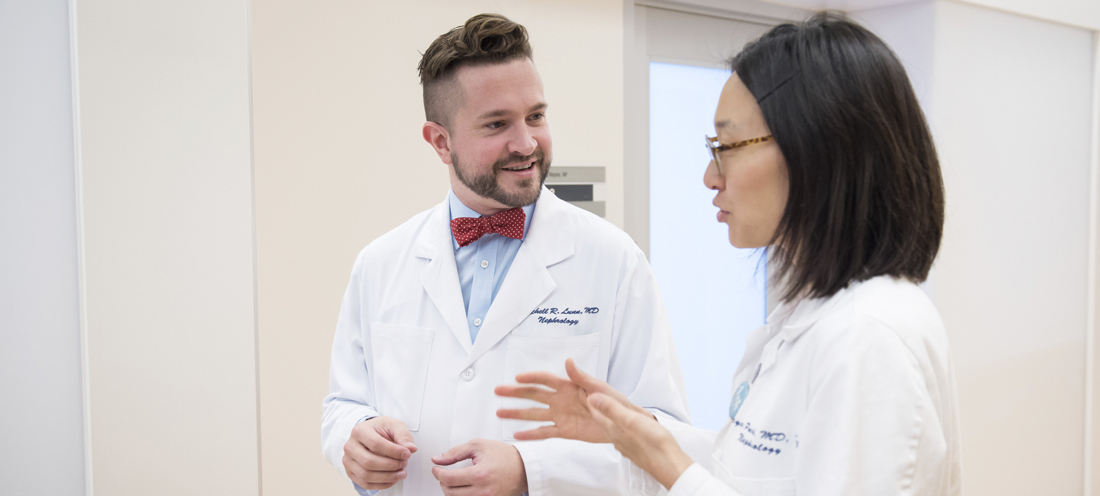 Clinical Research Scientist (3-4 years)
Fellows are trained in the concepts and methods of clinical research: epidemiology, biostatistics, study design, and translational research. At UCSF, we provide ample opportunity to build a research career under the guidance of a mentor. Visit Clinical Research for more information on clinical research in nephrology at UCSF.
In addition to the resources within the Division of Nephrology, the Department of Epidemiology and Biostatistics at UCSF offers educational program and degrees in clinical research, including:
We cover the full tuition for a Master's Degree Program in Clinical Research for clinical research fellows. The Clinical & Translational Institute (CTSI) at UCSF is one of the first 12 academic institutions selected to be part of the National Institutes of Health's national clinical and translational science consortium.  The CTSI facilitates clinical and translational research and provides infrastructure, services and training to enable research to be conducted more efficiently, effectively and in new ways. According to one analysis, UCSF is the #1 "top performing" NIH Clinical and Translational Science Awards (CTSA) institutions in regards to career development, as assessed by the number of new K awards received per year. 
Cite: Guerrero LR, Nakazono T, Davidson PL: NIH Career Development Awards in Clinical and Translational Science Award institutions: distinguishing characteristics of top performing sites. Clin Transl Sci 7: 470-475, 2014
Relevant Links