Staff Spotlight: Victoria Toussaint, Administrative Assistant, UCSF Health Division of Nephrology
'I'm Here for the Patients'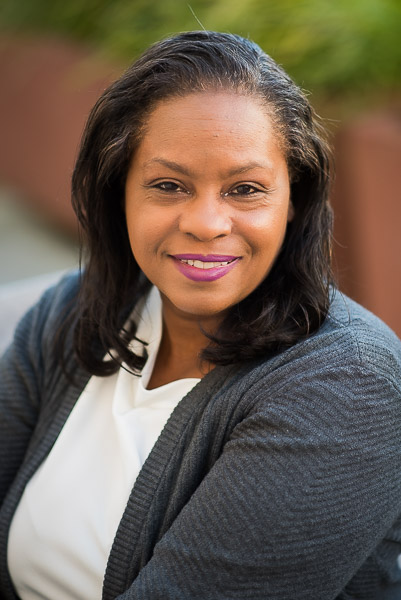 "Our whole purpose here is to make the patient feel welcome and comfortable," said Victoria Toussaint, administrative assistant in the UCSF Health Division of Nephrology. Whether she's helping patients schedule appointments, connecting them with other areas of UCSF, or keeping the back end of the division running smoothly, Toussaint brings her warmth, empathy and commitment to doing whatever it takes to meet patients' needs.
Born and raised in San Francisco, Toussaint graduated from Cathedral High School (now Sacred Heart Cathedral Preparatory) and attended City College of San Francisco. After honing her administrative and customer service skills in several jobs, she enrolled in the Bridge to Biotech program at City College of San Francisco, which opened up some new horizons for her. She started at UCSF in 2004 as a temporary employee, and worked for several years in a wide range of positions throughout the university. "It was a really good experience, because I gained different perspectives on various departments," she said. Among other assignments, she worked as an administrative assistant with the Department of Orthopedic Surgery, Student Academic Affairs in the Office of the Registrar, Facilities Management, and University Development and Alumni Relations.
Going Above and Beyond
In 2008, she began her current position as an administrative assistant with the Division of Nephrology. She provides coordination and administrative support for doctors and fellows who care for patients on dialysis at the Dialysis Unit at Mount Zion, as well as through many dialysis centers run by DaVita, Satellite, Wellbound and Fresenius in San Francisco, Daly City and elsewhere in the Bay Area. "I totally enjoy working with the people here," said Toussaint. Her administrative responsibilities include submitting expense reimbursements for faculty and staff, and inputting the nephrologists' and fellows' monthly schedule into Amion and the division calendar.
Toussaint also helps coordinate care for dialysis patients. Initially, the medical jargon made for a steep learning curve. "At the beginning, doctors would ask me, 'Here is the diagnosis for this patient – could you refer him or her to this different department?'" recalled Toussaint. "I looked at them like, 'What are you saying to me?' All the words were foreign, and I started writing everything down so I could pick up the words they were saying. It was really interesting, and a challenge. At the same time, it was great, because the doctors, my coworkers, and my supervisor took time to tell me what they needed, and are the type of people that I can go to and not be afraid to ask questions."
Toussaint knows the value of building good relationships with everyone she works with, from patients to colleagues to physicians. "When I call the Dialysis Unit, I ask the staff how their weekend was, or how they're doing today," she said. "If I call them and need their assistance, I'm talking to them as a friend, not as someone who is trying to get in contact with a patient.
When you build a relationship with someone as a friend, they will help you with what you need. And I do the same for them – if they call and ask me for patient information, I'll make sure I give it to them right away by phone or email."
Lending a Compassionate Ear
Some patients need some extra support, and Toussaint goes above and beyond to help them. She receives many calls from patients who seek her out for help navigating their care – sometimes within the Division of Nephrology, but sometimes in other areas of UCSF as well.
"Sometimes people are literally crying on the phone, telling me about their life," said Toussaint. "I can't dismiss them, because sometimes people just need an ear to listen. I try to be that ear if I can. If I get a call about a different department, I'll ask them what they need, and then go online as I'm talking with them. I may look up a phone number, offer to call the other department for the patient, and make sure that they get connected to the right person in the right department. I try to do as much as I possibly can, because I know it can be hard to navigate the UC system. Each day is different, and you just never know what's going to happen."
Toussaint cherishes the collegial relationships she has with all of her coworkers, who go out of their way to support her. "Sometimes after getting off the phone with a patient, I turn to one of my coworkers and say, 'Hey, this is the call I just had.' At some patient it can become emotional for you, and helps to have a discussion about it, or just have someone listen and be an ear for me."
"Victoria is one of the original General Nephrology staff members, and has a long history with the Division of Nephrology," said Debbie Gilman, operations manager for the UCSF Health Division of Nephrology. "In addition to her administrative role, she also helps coordinate care for our dialysis patients. She is impressively compassionate when talking with patients who are facing challenges or experiencing distress. She is able to address any anxieties they may be feeling and help them get the answers they need. That is a skill that cannot be taught. I feel lucky to have worked with her for 13 years. She's a gem."
Outside of work, Toussaint loves listening to music, especially Prince. She also enjoys R&B, soul, and Zydeco, which her father – a Louisiana native – played all the time when she was growing up.
"I totally enjoy working at UC, and having great coworkers and doctors," said Toussaint. "The people definitely make the place. They take time out to listen to the needs of their patients as well as the staff. I'm on the back end, just making sure that everything is okay on the front end. I'm here for the patients, and it gives me great pleasure and a feeling of accomplishment to make sure that the patients get what they need."
– Elizabeth Chur